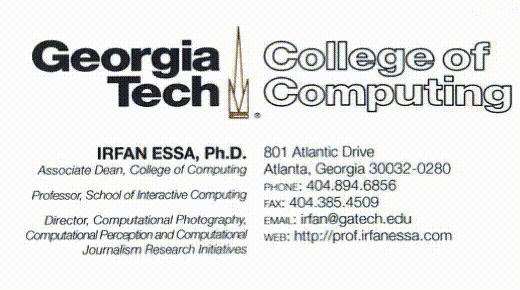 How to contact me?
Executive Assistant:
Email (Best and HIGHLY Preferred Method):
Email Address: i…@gatech.edu
I review email on a regular basis. But remember, email is NOT an active form of communication. Don't expect responses in a few minutes. Usually, expect a response within 24 hours to a few days.
Short emails (in text) are likely to get a quicker response. Attachments are less likely to be opened, sorry.
I read all email, though thanks to SPAM, some (well many) are missed. If a response is needed for something and not received, please resend.
Phone:
The phone numbers for my office are listed on the card above. When you call it, you will hear a message telling you to send me an email, I suggest you do that. If we work together, you already have my mobile/cell phone number.
Fax:
My FAX # at GA Tech is +1-404-385-4509. Please make sure to put my name on the cover page.
Addresses:
GA Tech ON Campus Office:
My office is in the CODA building on the GA Tech Campus (See campus map). I am in the Machine Learning Neighborhood on the 11th floor, Office #1103. To get into the building, you will need a Georgia Tech Buzzcard or sign in as a visitor at the building lobby, unless you have made a prior appointment to visit.
Address for CODA is
756 West Peachtree Street, 11th Floor
Atlanta GA 30308
GA Tech Mailing Address (Courier Mail/Fed Ex/UPS/Etc)
Georgia Tech – Machine Learning
Professor Irfan Essa – 4048946856
756 West Peachtree street, 11th Floor
Atlanta GA 30308